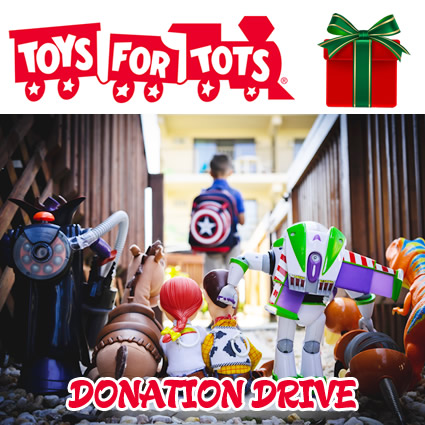 While many children will wake up Christmas morning to a sea of presents under the tree others won't be as fortunate. That's why we are pleased to help children in need through our Toys for Tots donation drive.
About Toys for Tots
Run by the United States Marine Corps Reserve, Toys for Tots is a program that distributes toys to kids whose parents can't afford to buy them gifts for Christmas. Since the program was founded in 1947 by reservist Major Bill Hendricks, Toys for Tots has donated 584 million toys.
Here's how you can get involved: from now until December 16th, you can bring in a new, unwrapped toy to our practice.
Get a Free Consult, Exam & More
Anyone who brings in a new, unwrapped toy, will receive the following:
A complimentary consultation
Exam
One set of x-rays (if needed)
Report of findings
The estimated value of this offer is $300.
An Unwavering Desire to Give Back
Dr. Maria Fournier and Dr. Scott Fournier are passionate about giving back to the local community. As parents of two children, they are particularly mindful of the fact that many kids in our community come from families that are struggling to make ends meet.
Thank you in advance for opening up your hearts to children in need by participating in the Toys for Tots donation drive. Your generosity will help make the holiday season a little brighter for kids who are less fortunate.